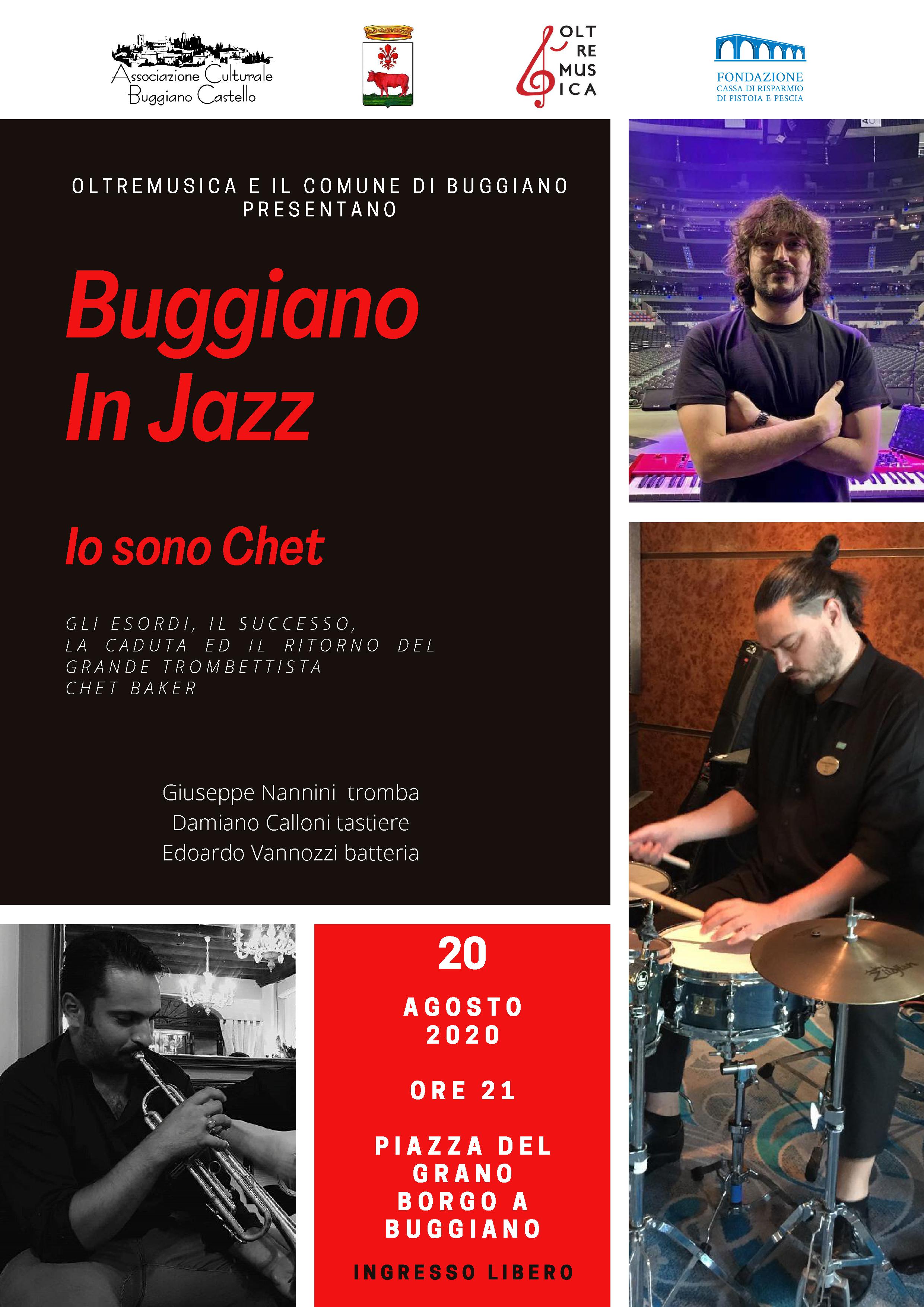 BUGGIANO IN JAZZ 'IO SONO CHET'
Venerdi 20 agosto ore 21,00 in Piazza del Grano a Borgo a Buggiano
Ingresso gratuito
Concerto di musica Jazz 'Gli esordi, il successo, la caduta e il ritorno del grande trombettista Chet Baker'. La sua vita ripercorsa attraverso un mix di musica e video. Uno spettacolo originale ed emozionante in cui saranno proiettate parti di un' intervista fatta da Raffaele Cascone a Roma nel 1980, Chet Baker racconta in italiano le sue tormentate vicissitudini.
Giuseppe Nannini alla Tromba
Damiano calloni alle Tastiere
Edoardo Vannozzi alla Batteria
Organizzato da Oltremusica, progetto by Ass, Culturale Buggiano Castello con il sostegno di Comune di Buggiano e Fondazione Caript.
GIUSEPPE NANNINI (Polistrumentista)
Poli strumentista predilige suonare tromba e sax .
Dopo Aver frequentato i corsi dell' accademia Nazionale di jazz di Siena nel 2004 inizia la carriera da musicista
si esibisce in tutta Italia ,partecipa a diversi festival jazz Termoli ,Terni,Montecarlo,Siena jazz
suona per la giornata internazionale del Jazz proclamata dall' UNESCO nel 2016 aprendo il concerto del Quartetto di Giovanni Tommaso e
nel 2017 in occasione della presentazione del disco di Bruno Romani
recentemente si esibisce con numerose formazioni Bruno Romani Quartet , Giuseppe Nannini and Crew, Magicaboola Brass Band
 Poly instrumentalist prefers playing trumpet and saxophone.
After the album listen "My Funny Valentine" by Chet Baker approaches to jazz music,
usually then that he never abandoned.
For years he performed throughout Italy, he participates in several jazz festivals Termoli, Terni, Monte Carlo, Siena Jazz
recently he played for the Jazz international day proclaimed by 'UNESCO opening the concert of the Quartetto di Lucca
Discografia: The dark side of the Street   MAGICABOOLA BRASS BAND 2015
As serious as my life, Bruno Romani, 2017, fonoarte, revenge records 
EDOARDO VANNOZZI
PROFESSIONAL EXPERIENCE
Blues:
Ray Cashman (2013 Blues Grammy Award nominee), Rachelle Coba, Michele Biondi, Mimmo Mollica, Pippo Antonini, Leo Boni, Jaime Dolce.
Working for Il Popolo del Blues since 2014.
Jazz:
Bruno Romani, Beppe Nannini.
- House band (jazz trio, Associazione Jazz Mood) at UNA Hotel Versilia, from June to September 2016-2017-2018.
Working for Circolo Lucca Jazz since 2016.
Pop:
Andrea Biagioni (X Factor) ,Renza Castelli (X Factor).
Production shows:
"Midsummer night dream". "Little shop of horror".
"Joseph e la strabiliante tunica dei sogni in technicolor" (RockOpera s.r.l., featuring Rossana Casale).
Festivals:
Umbria Jazz Winter (Orvieto), Montecarlo jazz&wine (Lucca), Juke Joint blues festival (Clarksdale), Seravezza blues festival (Seravezza), British blues festival (Bergamo), Trend&blues festival (Ruffano), Ferrara buskers festival (Ferrara), Lucca blues festival (Lucca).
Acknowledgements, awards:
30 April 2017 International Jazz Day (Debut Bruno Romani's album "As serious as my life")
30 April 2016 International Jazz Day (opening act, Giovanni Tommaso concert) 28 December 2012 Berklee Umbria Jazz Award.https://youtu.be/cv28z2SX-E8
Drum teacher:
Ricordi Music School (private music school, La Spezia)2008-2009 and 2016. Preludio (private music school, Lucca) 2008-2009.
Jam Academy (MA Europe, Lucca) 2003-2006.
 EDUCATION
Bachelor degree: Jazz drum set and percussions. Siena Jazz University. October 2018 (108/110).
First Certificate of English. DISCOGRAPHY
-Cotton and moonshine, Michele Biondi, 2017, Il Popolo del Blues Records ("A very fine piece of Blues influenced Americana" Blues Matters Magazine).
-As serious as my life, Bruno Romani, 2017, Fonoarte, revenge records.
-Out Louder live in studio, 2017, cd baby.
-A better life, Matt Biondi Crew, 2014, Poker Records.